So far in Jaipur we have covered palaces, and other attractions. We also explored three
different forts -
Nahargarh Fort,
Jaigarh Fort and Amber Fort
. Apart from these another important place in Jaipur is Jantar Mantar. Thia when translated into English stands for Calculation Instruments.

It is a observatory with collection of architectural astronomical instruments. In 1728 then Maharaja of Jaipur Maharaja Sawai Jai Singh-II had got this place constructed in 7 years. Himself being a keen follower of astronomy, not only did the masonry instruments suit his purposes, they also satisfied his architectural instincts.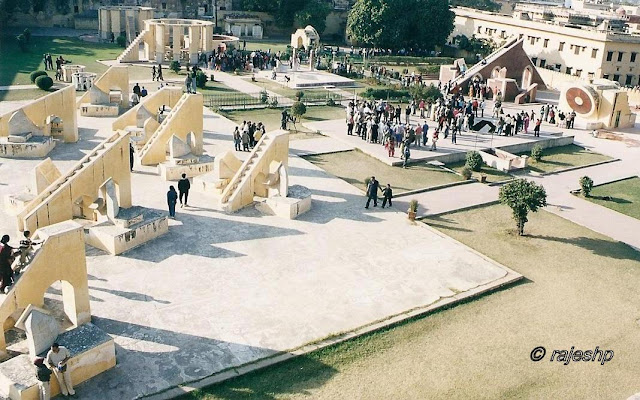 It severed the dual purpose of verifying astronomical observations as well as to stimulate interest in astronomy. It was built keeping in mind the rules of astronomy, the position of the equator, latitudes and longitudes.
The observatory consists of fourteen major geometric devices for measuring time, predicting eclipses, tracking stars in their orbits, ascertaining the declinations of planets, and determining the celestial altitudes and related ephemerides
.
The Giant Sundial (Samrat Yantra) is the world's largest sundial, standing 27 meters tall. The shadow of the instrument moves visibly at 1 mm per second, which for most people is a visibly profound experience.

This observatory is one of the 5 he had created in his time across the nation. Other popular observeatory is in Delhi. But one here in Jaipur is largest.
P.S: December is the month when lot of tourists land in Rajasthan. So if you really want all the arrangements to be done properly this has to be done before October end.